Just another Aviation thing. Much older than Red Raptor, but all good.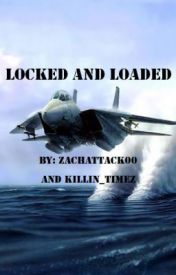 Kevyn raced at 40,000 feet above the ocean, at 1.3 thousand knots.
"Owl, Your joyride is over. Head back home; we have an 'issue'," Kevyn's friend, Stuart 'Elf' Kagan said over the intercom.
"Copy that, Elf," Kevyn replied. Kevyn turned the jet around and blasted full speed towards the carrier. Barrel Roll!, Kevyn thought as he flew to the carrier. He threw the Tomcat into a repeated barrel roll.
"Owl. You are approaching the air carrier. Slow down, you're coming in too fast," the flight director, Clyde, observed.
"Activating air brakes," Kevyn said, turning down his thrusters, and opened the air brakes.
"Owl, you are clear for landing," Clyde stated once Kevyn reached within a kilometer from the carrier. Kevyn let out his landing gear, and set the jet down. The wheels screeched, and the jet was pulled to a sudden halt. He shut down the engine, and popped the cockpit open, and the smell of salt water greeted him as he exited the jet. Xavier Nevins was already walking towards him, with Stuart following closely. Stuart was a rather short man, only five foot three, which had given him the nickname 'Elf'. Xavier, on the other hand was, was just an inch under Kevyn, at five foot nine.
"Kevyn, Captain McCay needs to speak to you, and your Squad," Xavier said
"Why?," Kevyn asked, wondering what he wanted. A moment later, noticing his question sounded rude, he added, "I mean when?"
"Be there at noon sharp, not a minute late," Xavier replied to his last question, ignoring the first one.
Kevyn looked at his watch; it was 10:00, "Hey, Elf, go get Rue, and Thalia. I'll go get the others."
"Roger that, Owl," Stuart replied. Technically, Stuart is supposed to call Kevyn 'Sir' but Kevyn had known Stuart for many years, and he did not mind. Kevyn had gotten the nickname 'Owl' because he had a habit of being 'Captain Obvious' or, as Stuart said, Smart ***. Kevyn rushed off to get Trevor Kirkor, and Luke Kartro.
"Listen up! Captain McCay will meet us on the Bridge in two hours. I want you to be ready half an hour before then. Do you understand?" Kevyn questioned his Squad.
"Yes sir!" Trevor and Luke replied simultaneously. They were a lesser rank than Stuart, so they had no excuse to call him anything other than sir.
Kevyn was ready to go to the bridge. Stuart walked down the hallway, followed by Roe Houck, Trevor Kirkor, Thalia Porten, and Luke Kartro. "As I said earlier, the Captain wants to speak with us," Kevyn walked onto the bridge. Kevyn stood tall and stiff as the Captain walked over.
"At ease," Captain McCay said. Kevyn, and his squadron clasped their hands behind their back, and their feet spread apart. "You and your Squadron has far surpassed all our other squadrons. But we have one more challenge for you. We have made some drone fighters that you will be tested against in a real battle," he explained, putting emphasis on the word 'real' before continuing,"They won't shoot real rounds at you, but they have infrared 'lasers' that will be shot at your ship. After a certain amount of hits, your ship will engage auto pilot, and take you back to the base. The drones are faster, more maneuverable than the F-14s. In just about every way possible, these drones are better than the Tomcats. Everything, but the pilot."
The battle would take place over land. Kevyn checked his Tomcat, to make sure it was ready for a top performance. He had refueled it, and it was towed to the the runway, and all systems were running perfectly. Stuart was also ready for the challenge, or so he said. Kevyn knew that Stuart was very excitable and exaggerative, so he wasn't sure.
"Owl, you ready to take these drones on?" he asked Kevyn excitedly. Thalia Porten had her jet pulled up to the runway, and Rue was ready too.
"You know I am." Kevyn said, rolling his eyes, since the small man was all but jumping up and down. He jumped into his jet, and started up the engine.
"Owl, you are cleared for take off," Clyde's voice broke the silence. Kevyn set the afterburners to full, and shot off into the air, doing a barrel roll after giving a loud whoop.
"Elf you are cleared for takeoff," Elf soared behind him, formed up, and reduced his speed. Thalia, Rue, and Trevor were giving permission to take off, also. They formed up behind Kevyn, and flew fifteen kilometers away from the base, before turning around. This allowed the drones to take off and get into the air.
"Engaging drones," Captain McCay said over the intercom.
"Stay in formation," Kevyn commanded his squadron, biting his lip under his helmet. Closing in on the drones, a robotic controlled squadron of half a dozen, outnumbering Kevyn's squad by one. "Break up now!" Kevyn exclaimed, veering off from the formation. " Try and keep them apart!"
"These can go anywhere you can, do anything you can," McCay warned, and Kevyn heard the smile in the Captain's voice.
Kevyn rushed the lead drone head on. This was like a very deadly game of chicken. At the very last second, Kevyn sent his jet in a spiral, and flew directly above the drones. It was so close that Kevyn could see the wiring in detail. Blue, red, green wires, he mused in his head. He blasted full speed, and sent his craft in half a barrel roll, than looped back around, and blasted it with his guns. "GOT ONE!" Kevyn exclaimed, as the drone exploded to smithereens. He looked around, and saw Rue being taken back to base.
"Trevor, you've got one on your tail!" Kevyn warned, as he saw the lithe Tomcat trying to shake off its pursuer.
"I can't shake it, I can't shake it!" Trevor replied, crying out.
"I've got him," Kevyn said, determined to help him out, and rushed towards Trevor and the drone. There was a drone behind Kevyn, but that did not matter at the moment, since it exploded a few seconds after it was sighted. He locked on the drone chasing Trevor, and fired. Direct hit, it seemed.
"Got 'em." Kevyn told Trevor, and spun around, "Form up on me." Thailia, Trevor, and Stuart forms a triangular shape. Four more drones, four more of Kevyn's squadron. An even match. Wait, one's missing, there's only three in front of us, Kevyn twisted in his seat to look around, but he didn't see it.
"Sir, I'm hit!," Trevor exclaimed.
"Thalia, you get the one behind us, Elf and I can handle these three," Kevyn told Thalia over the intercom.
"Too late, sir, one got me." Thalia replied.
"Alrighty then. That's OK, I've got another plan." Kevyn said with a smile. Kevyn shot downward, towards the ground, and pulled up sharply, to level himself. Swerving over and around the hills of the endless plains, he beamed, loving the feeling of weightlessness.
"Kevyn, as I said earlier, there drones can go anywhere you can. Don't risk your neck, don't get so low to the ground," McCay warned.
"Alright then." Kevyn said with a grin. He kept low for just a few more seconds, then shot off into a vertical climb.
"Kevyn what are you doing?" McCay demanded.
"I'm going somewhere they cant." Kevyn said, still grinning. He was going to stall them all. He blasted full speed upwards. Climbing at 30,000 feet per minute, he was nearing stalling, at 50,000 feet.
"Kevyn, back down, I repeat, back down. You'll destroy yourself along with the drones." McCay ordered.
"To late sir, I'm already getting stalling." Kevyn said, with a hint of laughter in his voice. The loud Beep! of the warning system could be heard over the intercom. He then started to fall. Attempting to keep from going into a nosedive, Kevyn tried to aim at the drones, which were about to stall too. He let his lead bullets pound against the drone armor, and it fell apart, but the other drone was already locked onto his plane. "Not on my watch!" Kevyn muttered to himself. He flung the ship around, and blasted through the air, but without any oxygen to the engines, it was slow to accelerate, but he was counting on gravity to do the work.
"Kevyn, you blasted fool!" McCay yelled. Kevyn's jet started to spin. Finally, he was able to lay some bullets into it, and it exploded. Still falling, Kevyn tried to regain control. But, alas, it was hopeless.
"Kevyn, eject, eject!" McCay said, watching the jet tumble helplessly to its ruin.
"Sir, I can recover this fall." Kevyn said, not sure if he was trying to reassure the Captain, or himself.
"Kevyn, that's an order!"
"Sir, I can handle this," he said, still convinced that he could save the plane.
Kevyn's jet was nearing the 1,000 foot level, and after that, he would be too low to eject. He finally noticed that there was no hope in saving the jet. "Kevyn, Eject NOW!" McCay roared.
Kevyn yanked the ejection cord and popped out of the cockpit. For a second, Kevyn felt weightless, falling toward the solid earth. He was yanked, by the parachute, and slowed to a slow drift towards the ground. He watched his jet keep falling, and it exploded in the dirt, leaving a twisted pile of metal, and a large hole in the ground. He kept slowly drifting downwards, thinking about what the Captain would do once he got back to the base. Kevyn landed, and felt a slight pain jolt through his legs, due to the hard impact. He got himself untangled from the parachute, and sat in the dirt, to wait for the captain.
Oh, and i apologize for the small amounts of language. This is a project of mine, and a friends, were working together. Most of this chapter is my work, but not all of it
It's great! Had fun reading it

Kardra Xenospawn

Admin




Posts

: 558


Join date

: 2014-01-28


Age

: 20


Location

: USA. 24th state of the Union.



For some reason everyone thinks this is my best piece of work.. yet one major issue: F-14 Tomcats are two person fighters, not one. I wrote this when i knew little of this jet in particular

Cheese_Crush

Admin




Posts

: 189


Join date

: 2014-01-29


Age

: 14


Location

: MERCA!





Similar topics
---
Permissions in this forum:
You
cannot
reply to topics in this forum